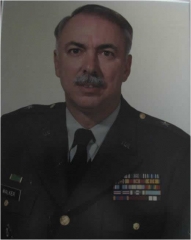 Brigadier General James Walker
General James E. Walker was born May 11, 1944 in Shawnee OK. He graduated from the University of Oklahoma in business administration. He was commissioned as a 2nd Lieutenant in the Quartermaster Corps..
General Walker has attended numerous military schools and training programs including The Army Officer Basic course, Missile Maintenance course, Quartermaster school Supply Management course, Ordinance Officer Advanced Course, Command and General Staff School, Senior Reserve Officers Course, Army War College, and the U.S Army Force Integration Course.
Prior to his retirement, General Walker spent more than 28 years in a variety of staff and command assignments including Staff Supply Officer 54th general support Group, Republic of Vietnam; Company Commander 1120th Maintenance Company ARNG; Assistant Staff Judge Advocate, Army Field Artillery Center Ft. Sill, OK; Senior Defense Counsel, Army Field Artillery Center; S-3 45th Infantry Brigade; Director of maintenance, Oklahoma State Area Command; and Deputy STARC commander, Oklahoma National Guard State Area Command in addition to numerous other active duty and reserve assignments.
General Walker's awards and Decoration include: Meritorious Service Medal, 2 Oak Leaf Clusters; Army Commendation Medal, 2 Oak Leaf Clusters; Army Achievement Medal; Armed Forces Reserve Medal; National Defense Medal; Army Reserve Component Achievement Medal, 3 Oak Leaf Clusters; Vietnam Service Medal; Army Reserve Component Oversees Training Ribbon, 2nd Award; and The Army Service Ribbon.
General Walker currently is a lawyer in private practice with the Walker, Ferguson and Ferguson law firm and is a member of the Oklahoma County, Oklahoma and American Bar Associations. He served as Chairman of the Oklahoma Tax Commission from 1977-1981 and as director of the Oklahoma Alcoholic Beverage Control Board from 1976-1977.