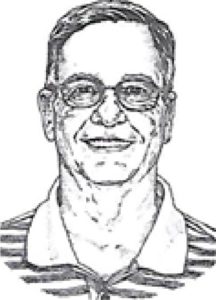 Lieutenant Colonel (LTC) Dale Magnin completed a successful, 21 year career in the U.S. Army Field Artillery in July 1994. For his skill and determination, he was awarded the Legion of Merit Medal, four Meritorious Service Medals, four Army Commendation Medals, the Joint Service Achievement Medal, two Army Superior Unit Awards, the Korean Defense Medal, the U. S. Army Staff Badge and the Parachute Badge among other medals and awards.
He served in South Korea, West Germany (twice), and numerous state-side assignments including the Pentagon and the resident Command and General Staff Course at Ft. Leavenworth, Kansas. LTC Magnin commanded C Battery (155mm SP), 1st Battalion, 29th Field Artillery, 4th Infantry Division (Mechanized) at Fort Carson, Colorado and commanded C Battery (Pershing Missile IA), 1st Battalion, 81st Field Artillery, 56th Field Artillery Brigade (Pershing), United States Army, Europe, at Neu Ulm, West Germany.
He received his Bachelor of Business Administration degree in 1972 at the University of Oklahoma and a Master of Business Administration degree in 1982 at Southwestern Oklahoma State University. He was commissioned as a Second Lieutenant in December 1972 after completion of the OU Army ROTC program. He was an Honor Graduate in the Artillery Officers Basic Course, a Distinguished Graduate in the 8 inch Nuclear Prefire Course, an Honor Graduate in the Artillery Officers Advanced Course, and an Honor Graduate in the Pershing Officers Missile Course.
Upon retirement from the Army, LTC Magnin continued his Public Service in a second career as the Chief of Planning Division, Department of Emergency Management, State of Oklahoma. During his 14 years in Emergency Management, he developed and maintained the State of Oklahoma Emergency Operations Plan and assisted every county and city in the State in developing their own emergency plans. He assisted in the State response and recovery to the Oklahoma City bombing on April 19th 1995, the May 3rd 1999 tornado and the May 8th 2003 tornado, and numerous ice storms, wild land fires, floods and a total of 27 Presidential Disaster Declarations.
He retired again in July 2008. In 2012 LTC Magnin became a Board Member with the OU Army ROTC Alumni Association Board of Directors. Dale's careers were successful in large part because of the support of his beautiful and cheerful wife Linda (OU class of 1974). His family includes a son, Barry, and daughter-in-law Teresa; and daughter, Kelly (OU class of 2003), and son-in-law John Prewitt and Grandson Maxton Dale Prewitt.
Inducted into the Wall of Fame November 10, 2017